Penplotter profit/loss, month of February 2021
A languid month sales-wise this February.
Rationally I can explain this in several ways.
I wasn't really hustling very much on the sales front. Perhaps because this month was short, various outside work/art things were going on, and maintaining focus was tricky.
I spent a chunk of the month exploring pen plotting onto scratch cards and etching onto metal plates. While fun, and a good investigation, if we put aside art-for-arts-sake and look at art-as-a-commercial-product, this would fall into R&D budget, which may not pay off.
January and February are traditionally slow months sales-wise anyway, as everyone recovers from Christmas and the darkness.
However, right at the start of the month, when playing with code, I did accidentally produce some plots that I absolutely loved (shop link). I love the sweeping shapes, the folds and tucks, the areas of space and others of bunched up textures.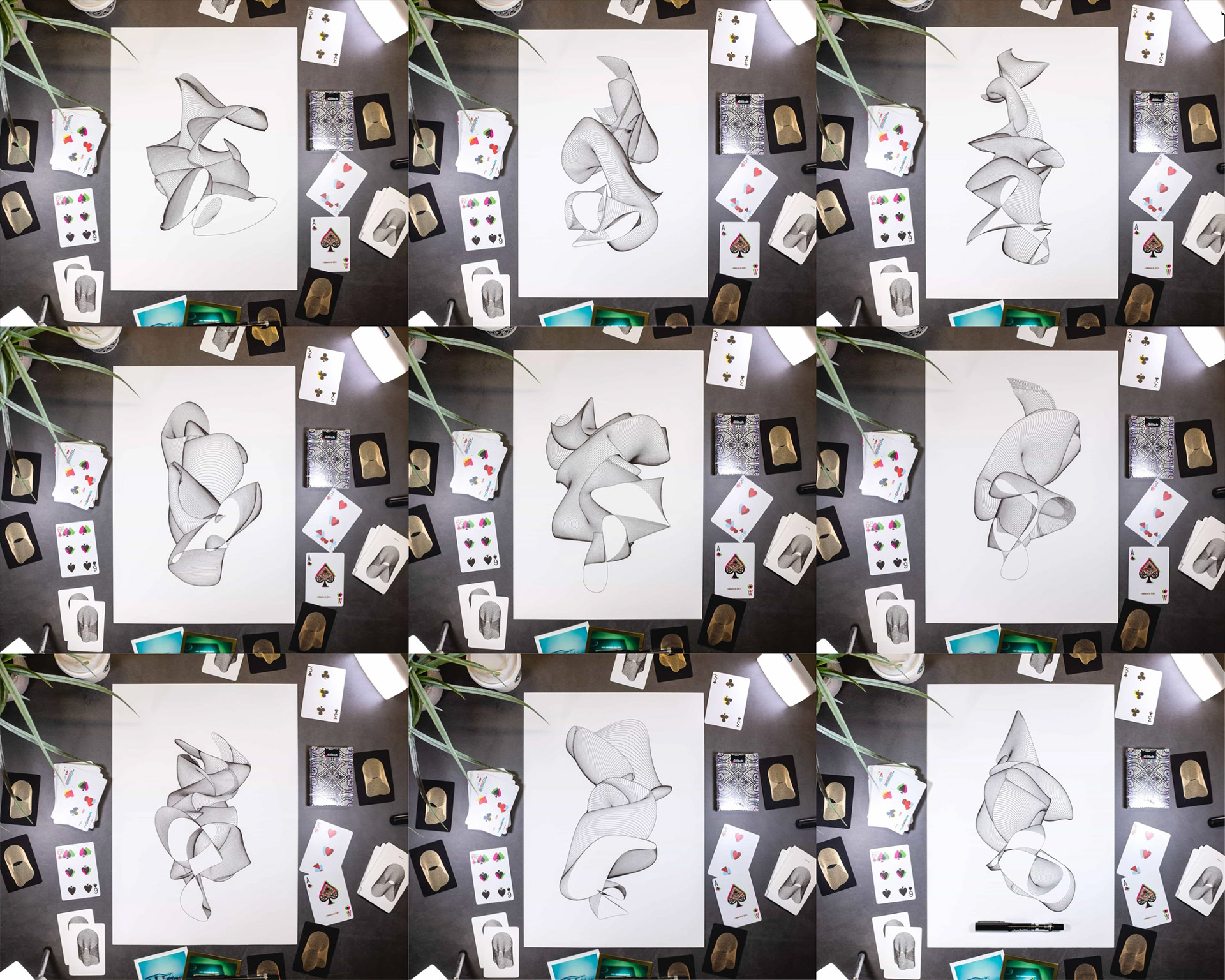 With these I was all, "Oh, these are great, people will love these as much as I do", and put them into the shop. They went in even before some older plots that have been waiting for a long time.
Not a single one sold.
And of course, all the negative thoughts come along with that; perhaps people don't like them, maybe I've run out of people who want to buy my plots. Maybe everyone else is doing better than me. Was the story not compelling enough? Is my shop website terrible? Am I not doing enough social media? Am I doing social media wrong?
All the things I told people not to worry about in this month's "A short essay on pricing pen plotter art" blog post. 😂
There's the worry that I'll post some more plots I like and they won't sell either, and the fear about what happens if the ones after that don't sell too. The suspicion that somehow it may all fall apart and being scared that the next couple of months will prove that.
Generally, I know better than to let it worry me too much, but these are strong negative feelings that are always hard to squash down, or even better, resolve.
And at the same time, I'm having some of the most fun I've had with the plotter for a while. Scratch cards are utterly ridiculous but so fun to play with. They've lead me onto metal plate etching, which for the moment, is a dead end as I don't have the equipment to take them to the next stage of Intaglio printing. But it's been exciting to try something different.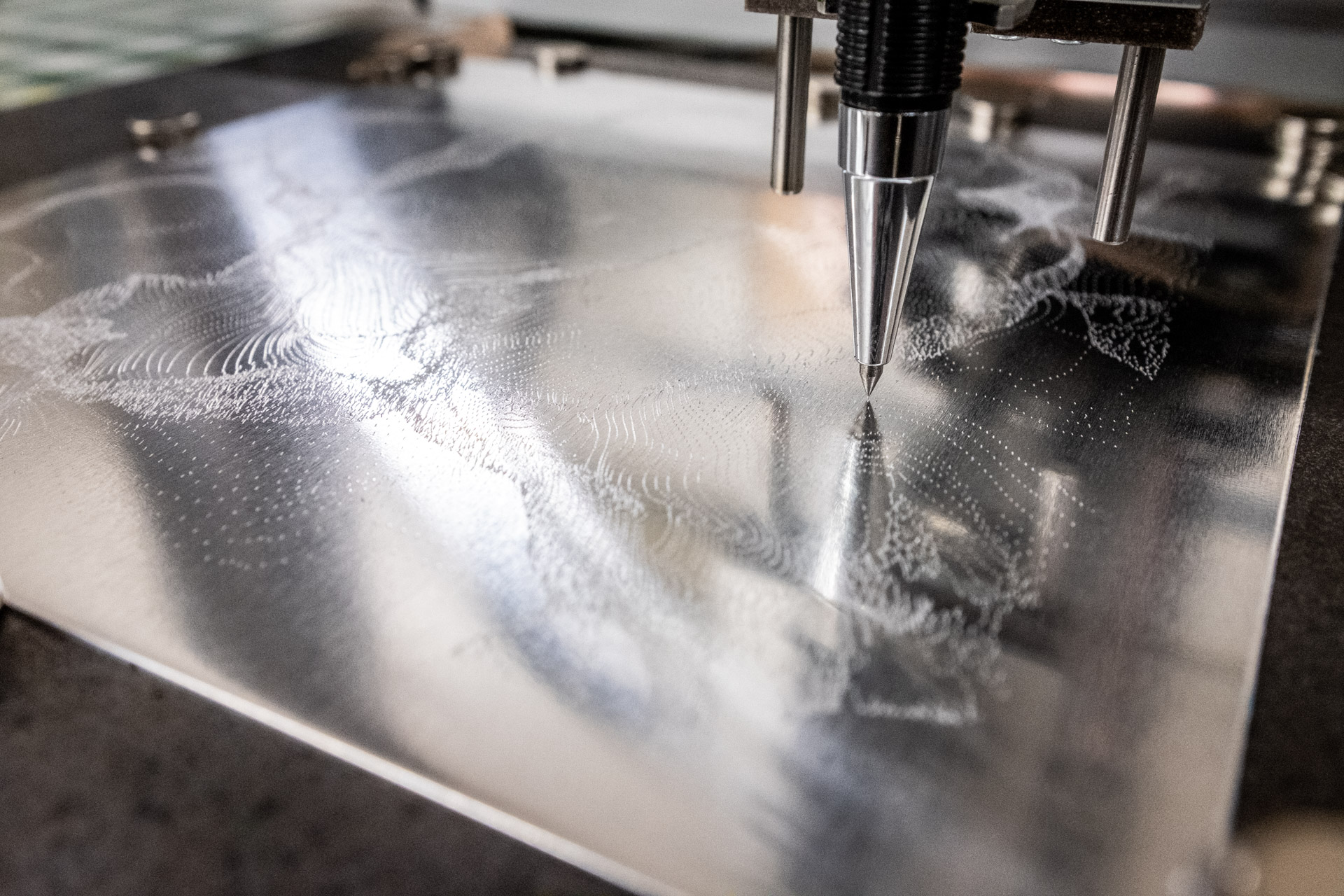 But for now, the numbers...
Sales:
£328.00
Costs:
£240.43
February Profit:
£87.57
Overall Profit:
-£690.88
Not the worst month ever, and certainly not the best.
I have to keep reminding myself, though, that in reality, that it's good in that it's covered my studio rent and materials for the month.
I think perhaps that my focus may also be shifting a little and that while I like selling art, I'm also enjoying thinking about and writing about the process somewhat more.
I'm not sure how to measure blog-posts-written or people-helped as a "how I'm doing in pen plotter sales" metric, but I'm sure it's in there somewhere.
📈 📈 📈
Expenses were once again lower this month, mainly due to the lack of needing to buy new pens because the only thing I needed was the tungsten carbide tipped etching pen. Turns out those things don't really run out 😀
In the end they were...
| | |
| --- | --- |
| Postage & Packaging | £40.10 |
| Paper | £36.17 |
| Pens & Ink | £0.00 |
| Studio Rent & costs | £164.16 |
| | |
| Total expenses: | £240.43 |
🤖 🤖 🤖
Notes and observations
Not a huge amount to report on the notes front this month. Aside from the aforementioned etchings. Which have been both great but also frustrating in that I can't move onto the next stage with them until I get some proper printing equipment, and I can't really sell them.
So, as interesting as it is, I kind of have to stop it for the moment.
I've also failed to write my first newsletter, even though I've written down many notes for it. It's next on my agenda now.
I did, however, manage to write a long-ass blog post about pricing pen plotter art: A short essay on pricing pen plotter art, although judging by this month who am I to give advice 😅
The next blog post to write is about finding creativity, which will hopefully be quicker to write and much shorter.
🤖 🤖 🤖
Fuller-ish expense breakdown
Postage & packing
All the postage
£40.10
Paper
202 Scratch cards, various
£13.49
150 Scratch cards, silver
£8.99
12 Unplated Aluminium etching sheets
£13.69
Pen & Ink
None this month
£0.00
Rent & Costs
Art studio
£110.00
Shop space rent
£0.00
Shopify
£22.16
People of Print Membership
£12.00
Instagram ads (roughly)
£20.00
Total expense:
£240.43
February sales
Plots
£328.00
Prints
£0.00
Other income, i.e. buymeacoffee etc.
£0.00
Total sales:
£328.00
February profit
£87.57
Profit to date
-£690.88
🤖 🤖 🤖
March promises to be a busy month, on the writing front, less so on the plotting. Although I should finally get around to putting some older plots into the shop which is a nice way to feel productive without getting burnt out.
Thank you once again for coming along on this journey with me.
🤖 🤖 🤖