Penplotter profit/loss, month of September 2020
It's the first of the month, which means it must be profit/loss time (again). This month I took things pretty easy, so there's not much to report.
Sales for September were: £370.50, not to bad, here's the breakdown...
Sales:
£370.50
Costs:
£193.71
September Profit:
£176.79
Overall Profit:
-£1,875.41
If you've been following along since I started in this post you'll have seen that my initial outlay for equipment and R&D was £2,218.08. So I'm pretty pleased to bring the total loss down to under £2k.
The rest of the posts in this series can be found here: https://revdancatt.com/penplotter/ at the bottom of the page.
🤖 🤖 🤖
Last month I got the shop set up, which was a whole bunch of work. I figured I was going to do a monthly "collection", a series of plots with a theme, but that just didn't happen. There was so much other stuff going on, that I popped some old plots into the "Experimental" collection, which was always the plan, and just let it do its thing. Oh, and plotted a bunch of postcards to go along with plots I sell, enough to last me a while anyway.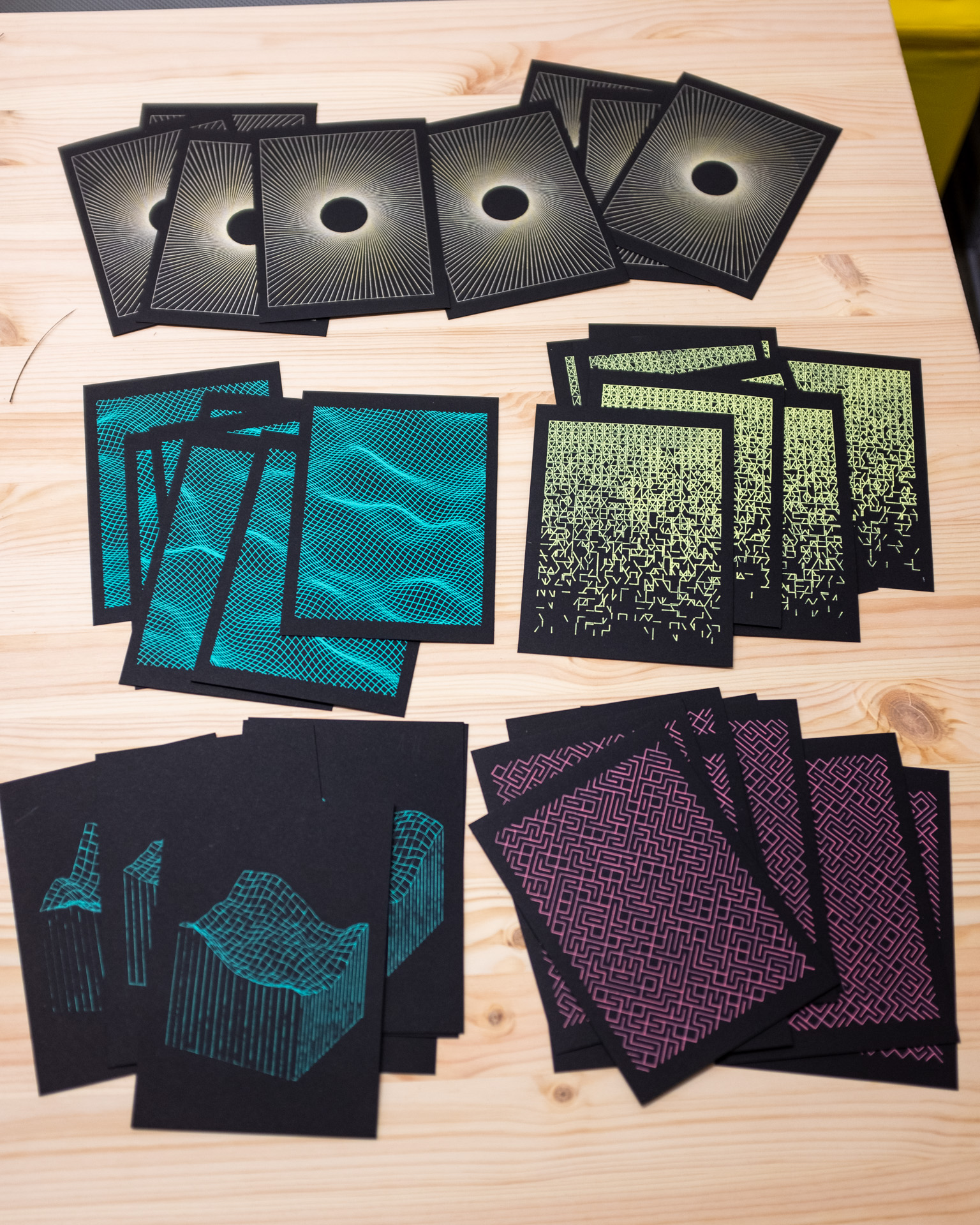 Of course the flip of that, was that being busy meant I didn't need to buy much in the way of paper or pens. The glut of stuff I bought last month is lasting me pretty well.
Overall, the first month showed me that if I put effort in I could sell a reasonable amount. This second month has shown me that getting the pen plotter to cover my studio expenses and slowly reduce down the overall loss is possible.
Perhaps this time next year I'll be turning an actual real profit.
The plot sizes sold were
4 * A3 plots
1 * A4 plots
The expenses are...
| | |
| --- | --- |
| Postage & Packaging | £31.94 |
| Paper | £0 |
| Pens & Ink | £25.11 |
| Studio Rent & costs | £136.66 |
| | |
| Total expenses: | £193.71 |
🤖 🤖 🤖
Notes and observations
Not really any this month, other than what I said before, selling five plots a month and covering rent seems, well, easy. Once more it's obvious that the time and effort put in won't ever scale enough to turn this into a full-time job. The length of time it takes to produce a plot limits how many I can make.
Perhaps in the future I can figure out a way to make prints that somehow work with the idea of plots being unique.
If I split the total expenses across the plots I sold, an A3 plot "cost" £43.05, and the A4 plot "cost" £21.52. Which is roughly the same as last month, when the "cost" of an A3 plot was £49.84 and an A4 was £24.92.
Again this isn't a perfect way of figuring out profit margins but it's a good estimate, and a reminder that a plot costs pen + paper + studio rent + other expenses. Which isn't including time at all.
🤖 🤖 🤖
Fuller-ish expense breakdown
Postage & packing
(too boring to itemise)
£31.94
Paper
None this month, go me!
£0.00
Pen & Ink
Sakura Gelly Roll Set of 24 Gel Pens
£25.11
Rent & Costs
Art studio
£65.00
Shop space rent
£37.50
Shopify
£22.16
People of Print Membership
£12.00
Total expense:
£193.71
September sales
£370.50
September profit
£176.79
Profit to date
-£1,875.41
🤖 🤖 🤖
Be excellent to each other.
🤖 🤖 🤖