Weeknotes 40 - Shop, flow, addresses and oblongs
I suppose this week is pretty much all about the shop.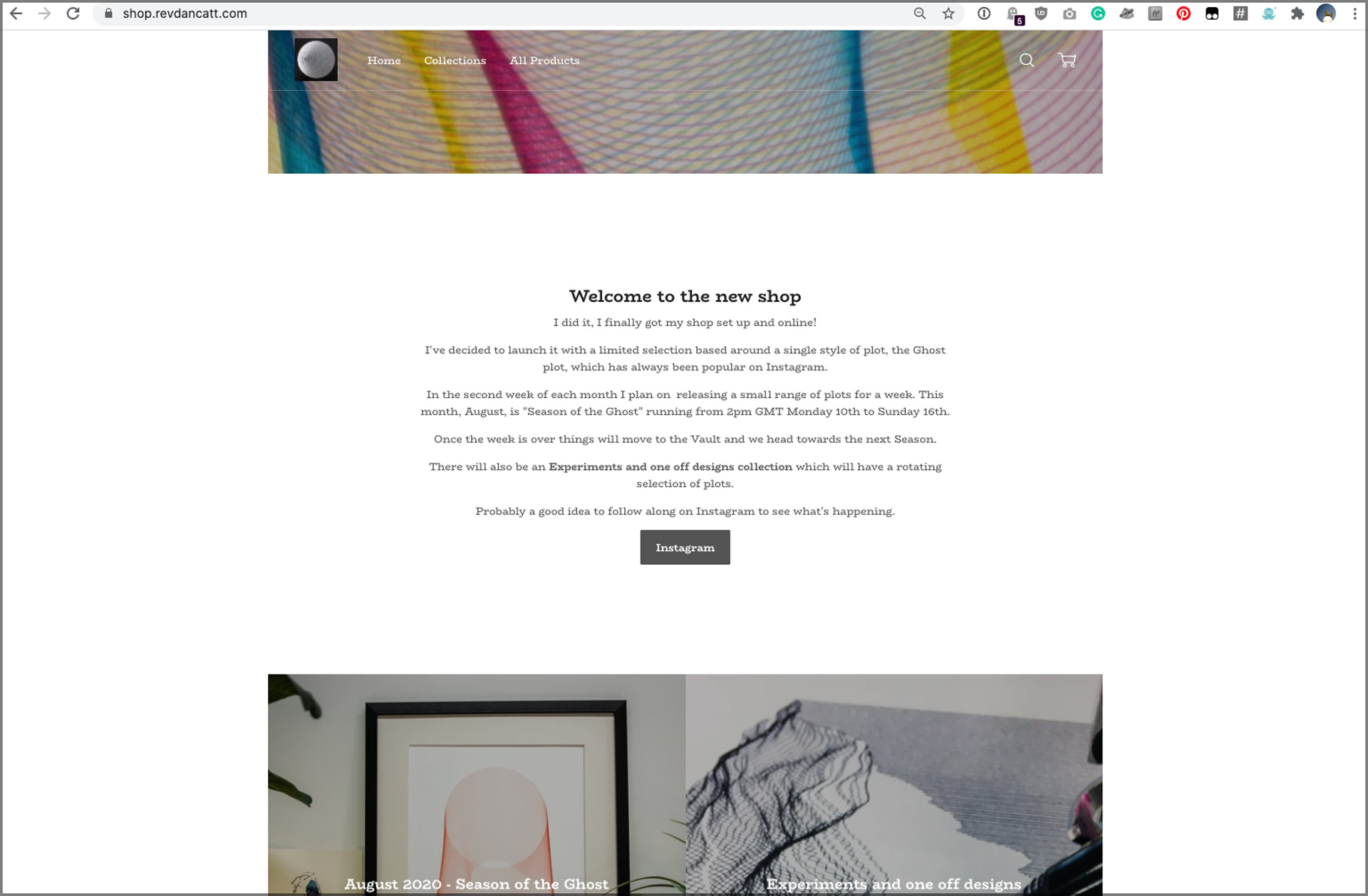 Everything takes longer than it's supposed to, but that's not news. Originally I was planning on having it up and running last month, but, oh lol no! Still not perfect, but I for once am totally fine with "good enough", at least I have something I can build on.
I'm doing possibly an odd thing with it, but it doesn't feel that odd most of the time. The shop has monthly "Seasons", this season is "Season of the Ghost", where I'm putting a small range of plots up of a single week, and then "archiving" them.
Before the season launches, they are on the site but you can't buy them. When the season is over they are on the site but you can't buy them. I have them already plotted, they're in the system, all the packaging is there and ready to go, so why have things that I can sell (if I'm lucky), but then not have them for sale?
For me, it's about Flow.
I have a lot going on and I try to keep focus, I'm splitting time between doing some museum work, being an artist, and having a family.
I'm finding the art part easier if I break it down into a cycle, of roughly; prepare 👉 promote 👉 sell 👉 ship 👉 repeat.
So this week I've been in promoting the shop (kinda), art hustling, and trying to sell things. Not that I've been doing much of any of those things. But at least I know that's the mode I'm in.
The following week I can ship anything that hasn't already been shipped and put the rest of the stuff away, knowing I don't have to do any of that until the next season.
Whereas if I put the stuff up, and then it was just for sale until it was all gone, and perhaps some is still sticking around when I put some more up, and then a third "collection" until it all mushes into one, then I'm not sure I could handle always being in sell and ship mode.
There is a part of the shop "Experiments and one-off designs" where I can just put plots, and people will just be able to buy things, there's like only two there atm. But it's not something I have to actively promote, it's just there so when someone asks "Do you have a shop?", or "Do you sell any of your plots?" I can answer yes and point them at it.
While it seems like it may be the same, in my head it's kinda not, mentally I can just let go and get on with other stuff.
There's a bit more to it than that, but this isn't that blog posts, this was just supposed to be, oh hey, I launched a shop.
Actually, I should have started with that, I launched a thing, and tbh I was a bit scared, "what if no-one buys anyway? How will I feel then?" etc. etc. But I'm old and wise enough to not be too worried about that. Gotta start somewhere and just keep pushing at it.
So congratulations me on doing a thing, doing things is hard. I'll do the round up of did I make a profit or not as usual at the end of the month.
💸 💸 💸
Another thing I did was spin up a second copy of my Correspondence tracker (blogs passim), with with a couple of slight tweaks, one of which being it's now red rather than blue...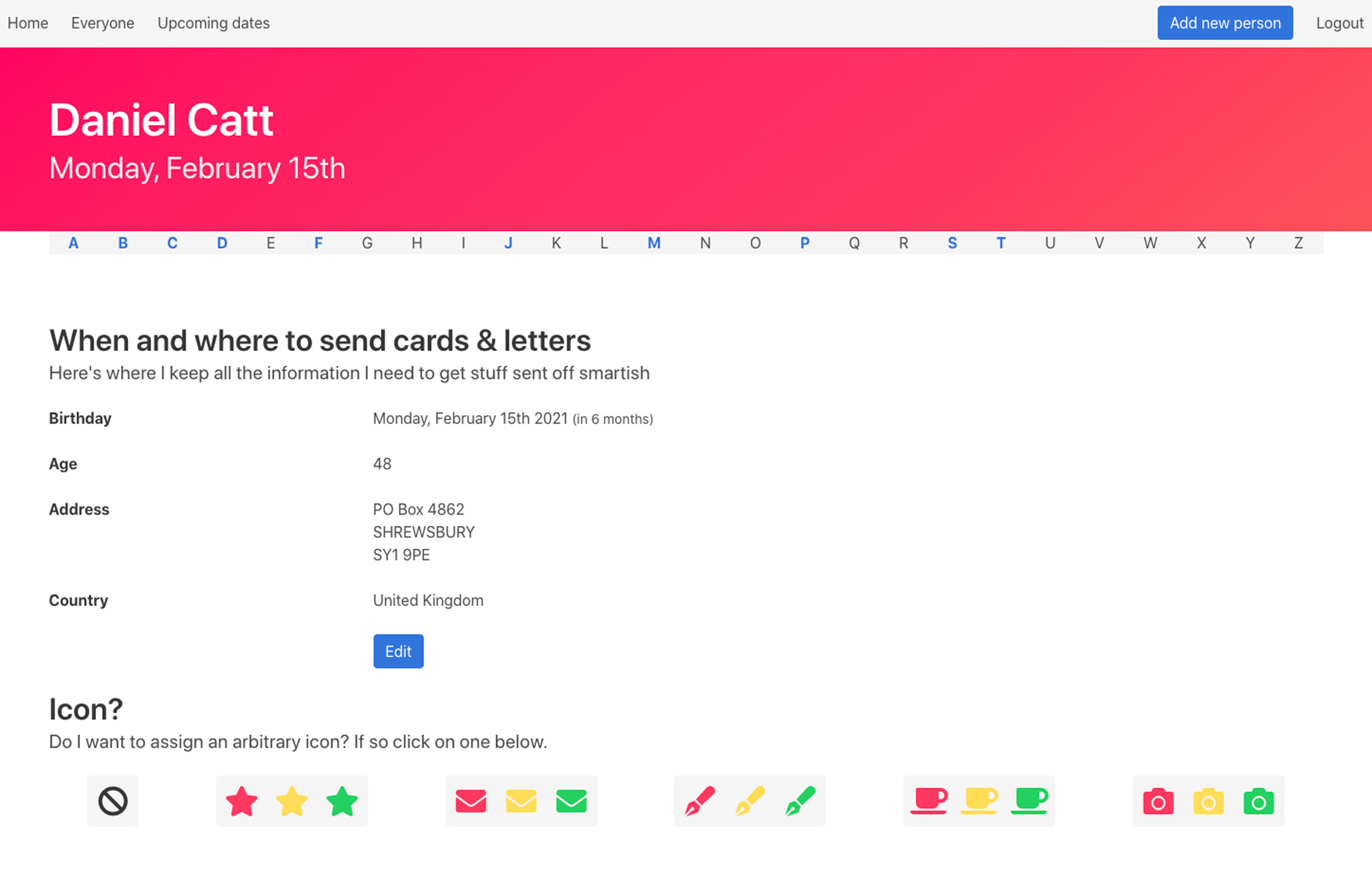 The other being that I can now record Royal Mail tracking numbers along with the "When did I send a thing" entry, and then click through to the tracking. I may wire it into the Royal Mail API at some point, but that seems like something I'd do to procrastinate from doing something else.
I'm not sure if this is useful or not yet, Shopify also does a bunch of this stuff. But I think there may be a couple of things I want to be able to do which I can't do in Shopify, and being able to have a tool I could just fire up and get working felt pretty good.
📕 📕 📕
Oblong. I got obsessed with the word oblong again this week. I love the sound of it, such a great word.
Welcome an oblong into your life today.
▯ ▯ ▯