Hong Kong Two
Jet leg followed by catching up with admin stuff and a bout of food poisoning thrown in means overdue getting it together enough for Hong Kong part two.
We were staying in Hong Kong for just over two weeks, with something already arranged on the Sunday of the first weekend and a Hackday to help host on the 2nd weekend giving us just a single day to do something.
I decided I wanted to try all the forms of transport possible (tram, ferry, bus, cable car & train) to get us to and from the historic fishing town of Tai O, up to the "Big Buddha" and back to the hotel again.
The day was full of fog.
* * *
Tai O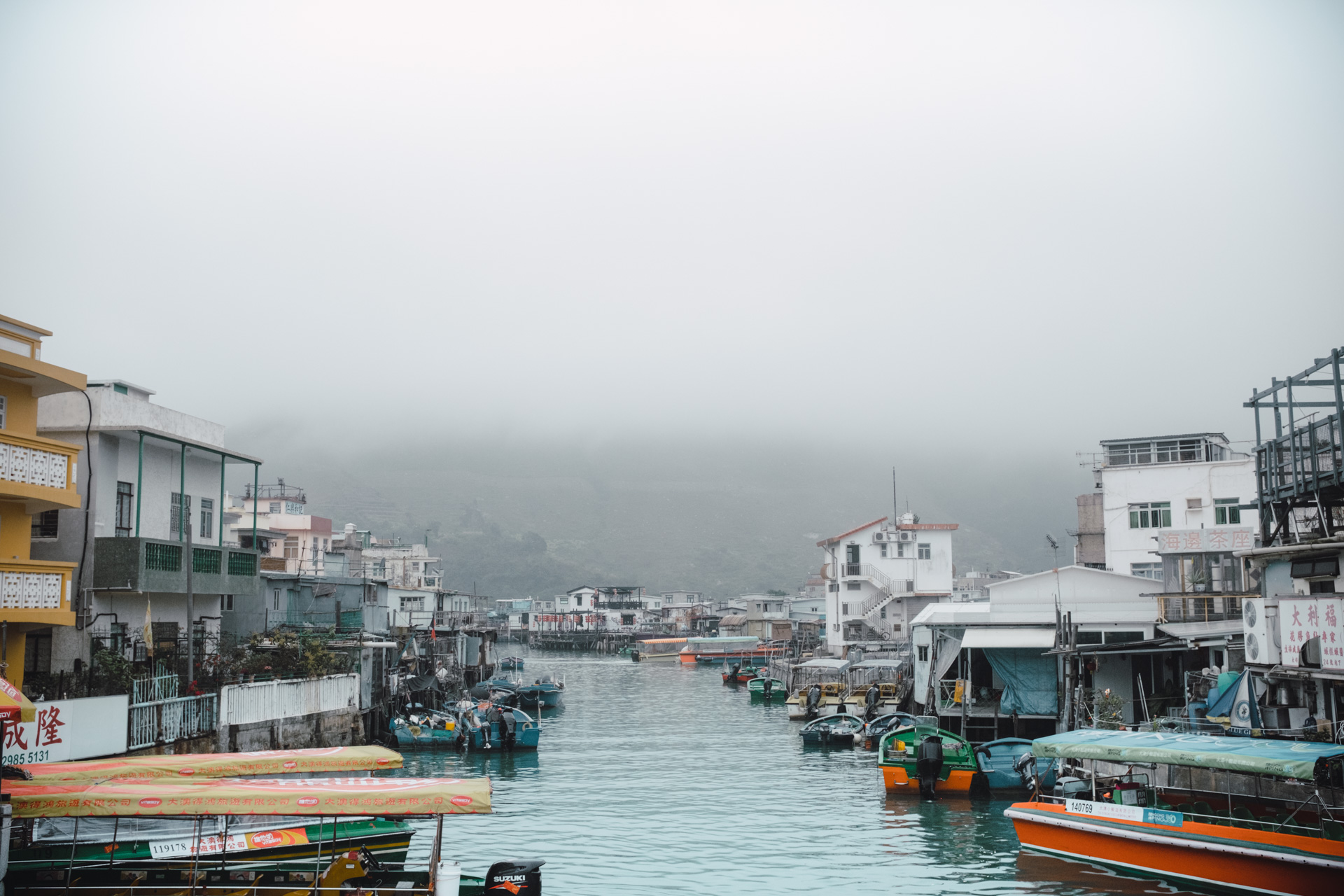 Tai O is a fantastic little town featuring the Tai O River running out into the sea, along the inlet are numerous houses all built up on stilts over the water. It's all densely packed with tiny streets, various shrines, a temple or two.
You're spoilt for choice by the street food, all locally caught... not everything looking completely edible.
But some houses also have small areas out the back over the water where you can get food, and this is what you should definitely do. You get to eat amazing food while watching the boats sail past. I ended up accidentally having two puddings, which tbh, wasn't terrible :D
Below is a binaural recording from the spot those photos were taken from. Binaural records are designed to be listened to with headphones, and it may sound a bit off through speakers. If you're reading this via RSS, the .mp3 file is here.
I then finished off lunch with some street food egg waffle, which is also the best thing ever.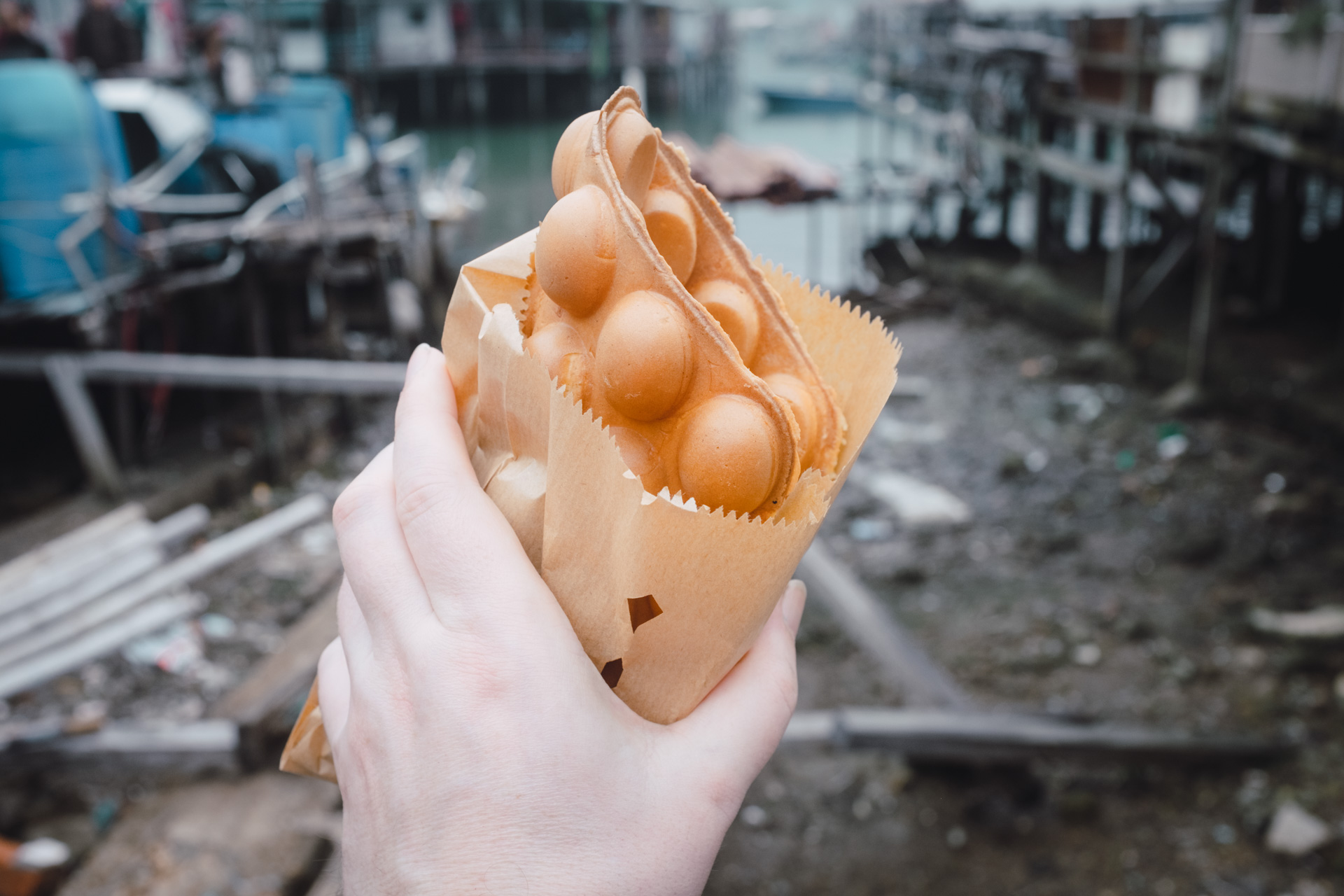 There was a cat café which I absolutely could not go in otherwise I'd be stuck there forever.
After some more wander around it was bus trip up to Ngong Ping Village to see...
* * *
The Big Buddha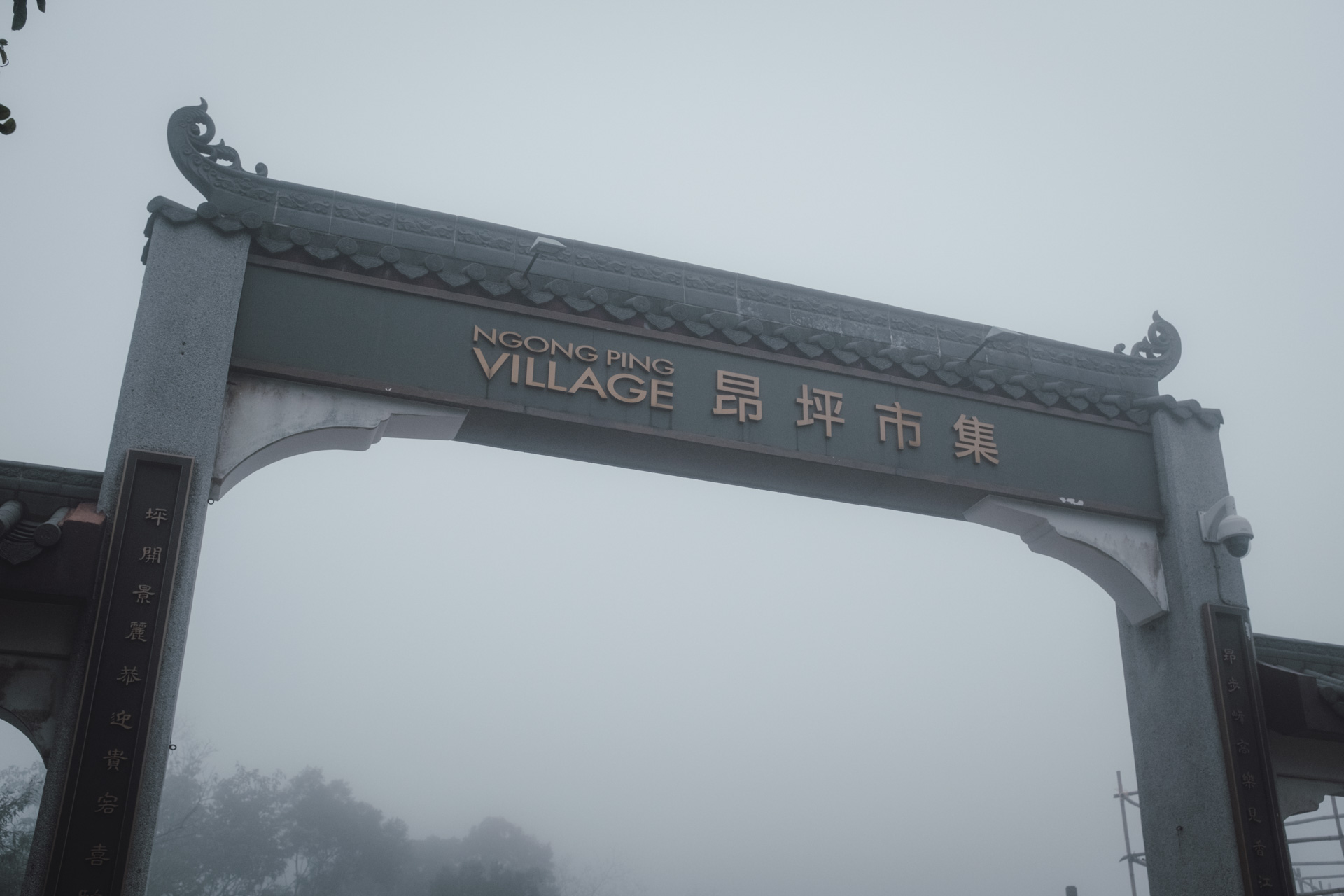 It is fair to say that the amount of fog wasn't ideal for viewing the Tian Tan Buddha, it wasn't even possible to see it at the top of the 268 steps until it started looming out of the mist about halfway up.
Given that it was our only proper day off and I'd just done a lot more stair climbing than I'd ideally want to I was determined to find it impressive.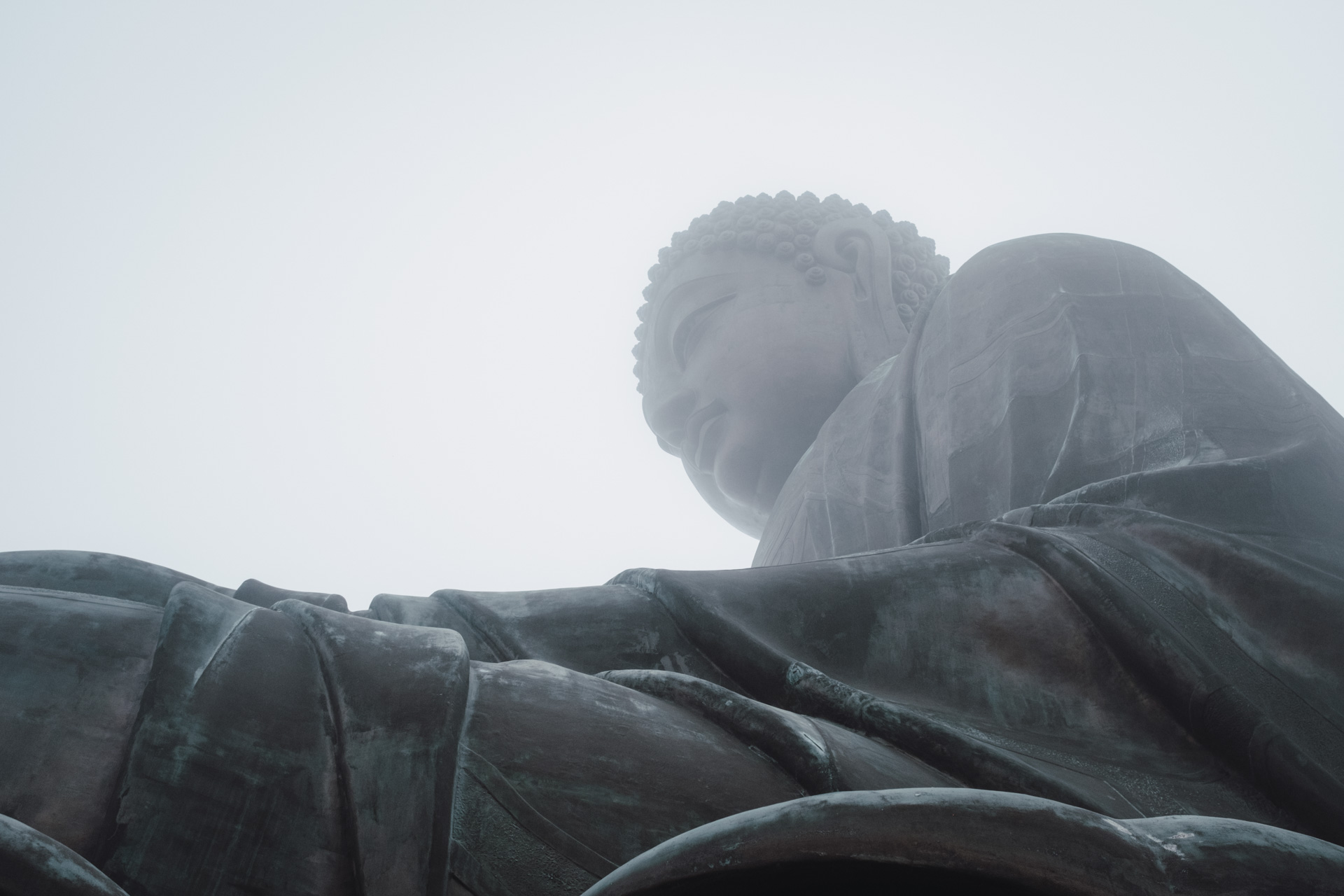 Finding it impressive was unsurprisingly easy.
We celebrated the trip up and down with an icecream in the increasingly dense fog.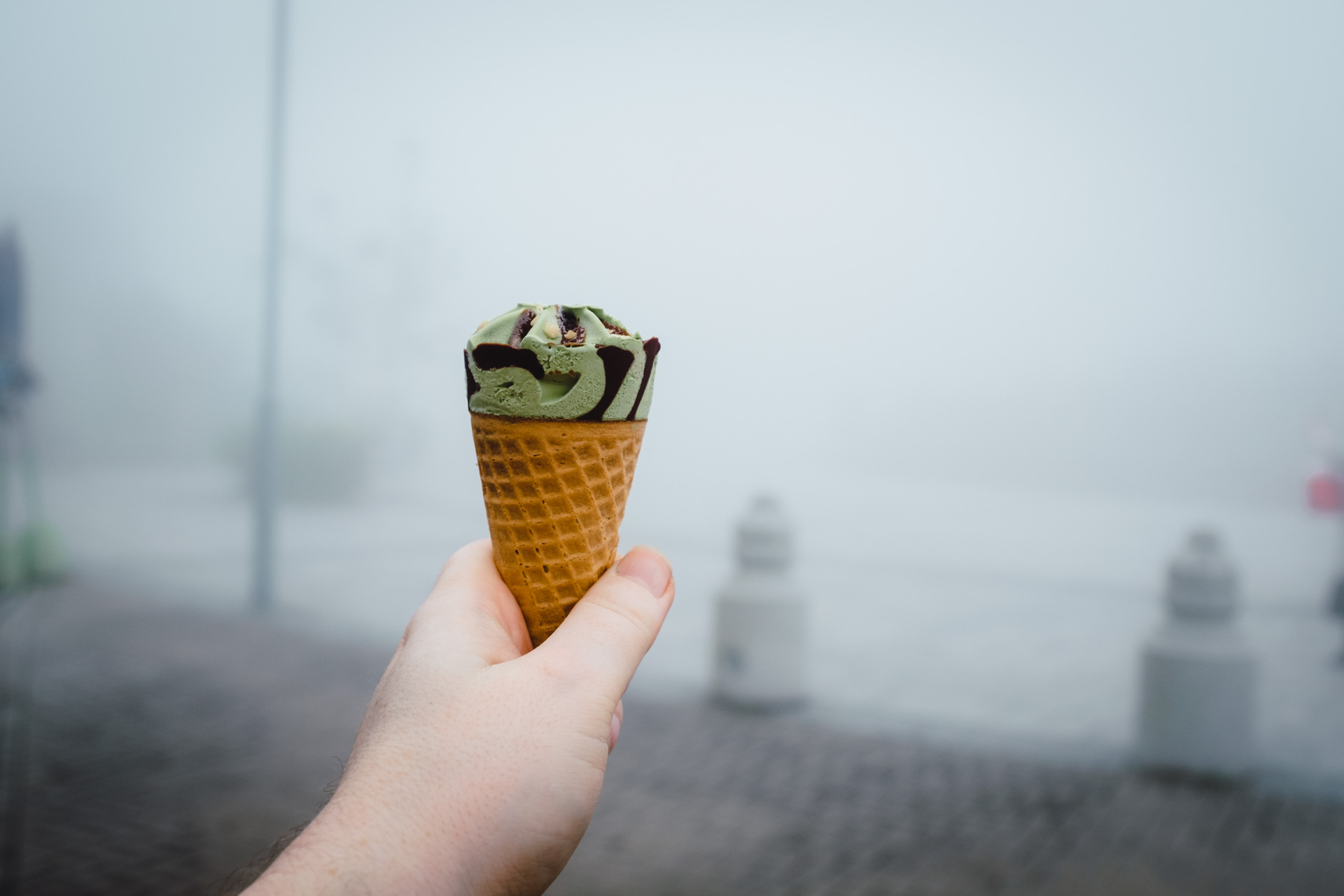 The whole effect got a little weird as we got closer to Po Lin Monastery also on site as the vast amounts of huge incense being burnt mixed with fog until the whole place was one sweet smelling musky haze.
You weren't allowed to enter or take photos of the inside of the temple. Instead, I made another binaural recording, which again is embedded below or linked to here.
* * *
Polaroids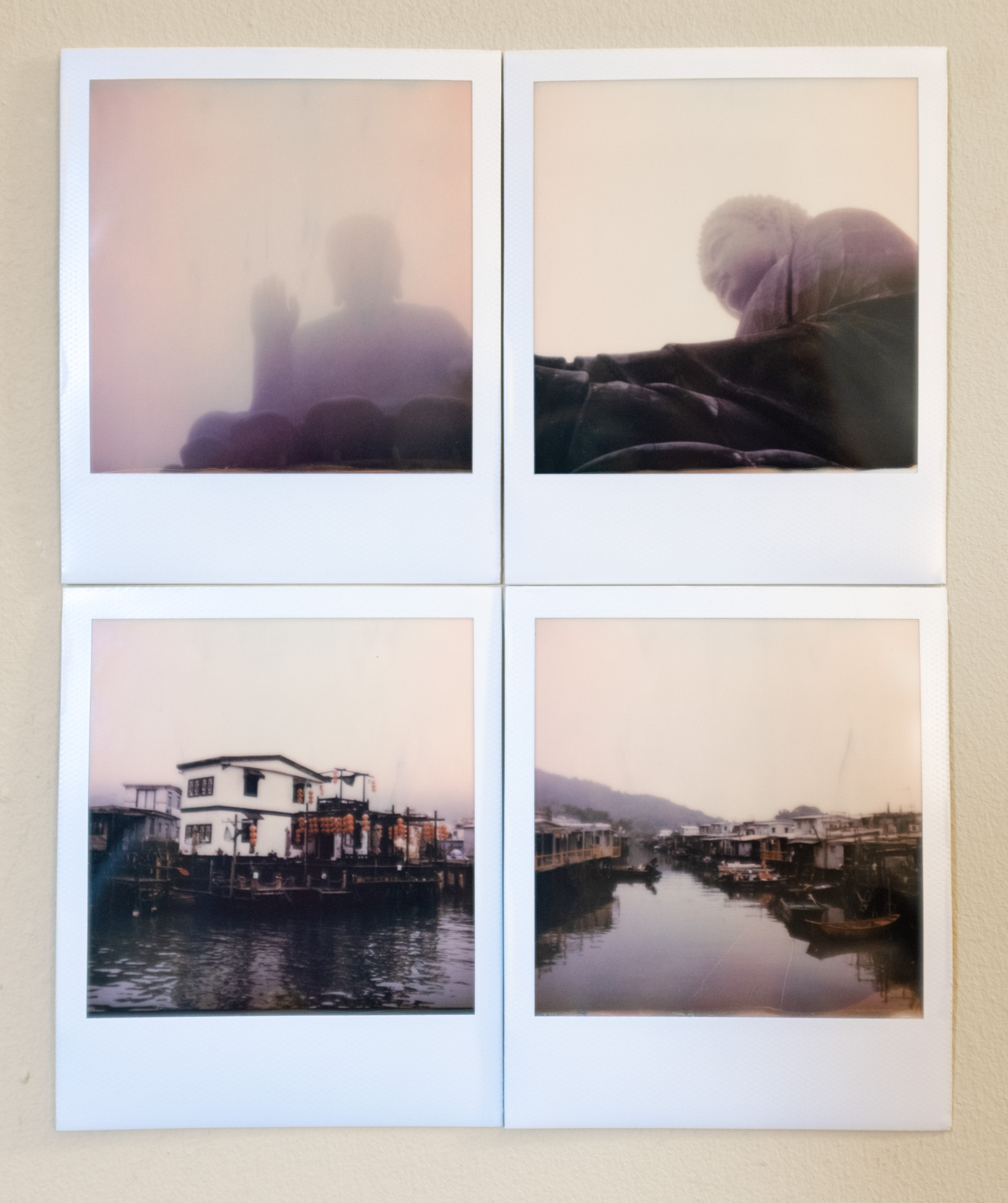 I'm not sure if it's my camera or the film, and I know polaroids need a lot of light, but mine seems to need more than most. Which means it ends up being left on the shelf more often than not. But I figured that no matter the light levels just the size of the Buddha along would make it worth a shot.
The fog had other ideas and gave everything a creamy pink look to it. I have yet to capture a properly blue sky with the thing, even when pointing it directly at a blue sky. I probably should have held out for the OneStep Plus.
* * *