Penplotter profit/loss, month of October 2020
New month, so it must be profit/loss time (again, again). The very short version of this month was that I did have a lot planned. I was looking at spooky skull stuff, a little bit of pumpkins and ghosts, but in the end I just kept on exploring different plotting ideas.
There's a few more general things I wanted to write about pen plotting, but this isn't really the place for that. I'll just make another post when it comes time and instead get on with the numbers.
(Shop lives here: shop.revdancatt.com)
Sales for October were: £949, still not breaking the £1k barrier 🙃 here's the breakdown...
Sales:
£949.00
Costs:
£521.95
October Profit:
£427.05
Overall Profit:
-£1,448.36
It's been a whole year since I got the pen plotter, so I guess that means owning a pen plotter and selling plots has cost me an average of £120 per month. It's going to be funny when (and if) I finally get into positive numbers and can say "The pen plotters makes me £1.27 per month". I guess I have to do this for ten years or so for it to even out.
The rest of the posts in this series can be found here: revdancatt.com/penplotter at the bottom of the page. Nearly enough to start graphing the numbers.
🤖 🤖 🤖
Despite the sales being higher, this month was actually pretty chill. My focus was on cleaning up some old code and adding a couple of new utility features, mainly being able to crop the designs within circles. I intended to write more blog posts about the process of pen plotting and selling plots, but instead I spent the time tweaking the tools I'd written to help streamline my Instagram posting.
This exchange on Twitter with the amazing Michelle Chandra (Dirt Alley Design) make me laugh...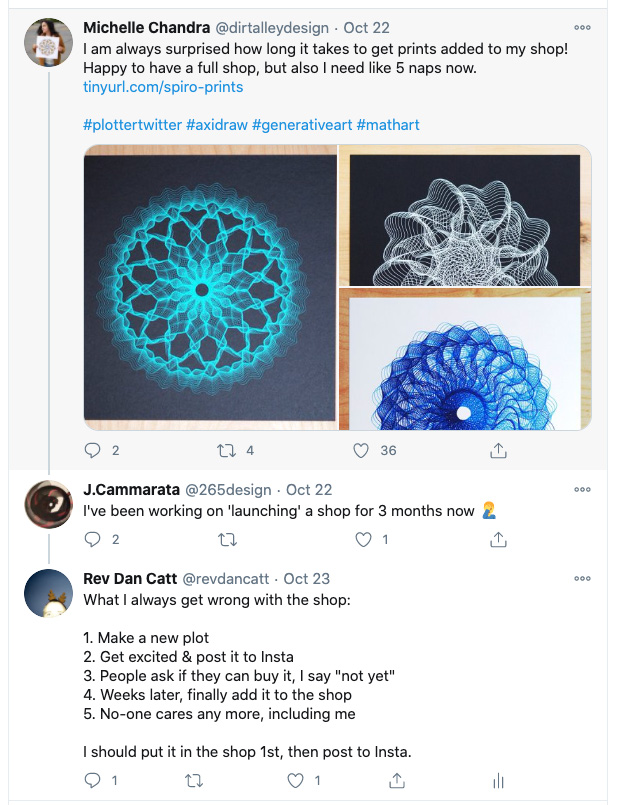 I do get excited about each plot as I do it, and want to share it ASAP, the "Insta" in Instagram I guess. But the possibly smart thing to do would be to do all the boring setting up shop stuff first, then post to Insta (if I was planning on selling it). Maybe I'm over thinking it.
The plot sizes sold this month were
9 * A3 plots
1 * A4 plot
1 * A5 plot
I took advantage of the above average plot sales this month to stock up on supplies, so here's the figures...
| | |
| --- | --- |
| Postage & Packaging | £203.36 |
| Paper | £129.28 |
| Pens & Ink | £41.72 |
| Studio Rent & costs | £136.66 |
| | |
| Total expenses: | £521.95 |
🤖 🤖 🤖
Notes and observations
I keep forgetting how much paper costs, but the Fabriano Black Black was on special offer so I decided to just go for it. £203 on postage and packaging materals is a little eye watering.
The costs split over the sales puts the cost of producing an A3 plot at £45, A4 at £30 and A5 at £14. I suspect that means I need to work out how to either...
Sell more stuff to take advantage of economy of scale, seems unlikely to be a thing with pen plots.
Reduce my costs.
Increase the prices.
Although if the first 9 months of pen plotting was R&D, I'm still thinking of these first few months of having a shop as selling R&D. When I start selling "properly" then I can revisit the prices part.
🤖 🤖 🤖
Fuller-ish expense breakdown
Postage & packing
All the postage
£130.23
Grey Kraft (packing) Board
£21.86
Mounting corners
£5.80
Cello Bags
£17.99
Tissue Paper
£8.99
Corner protectors
£18.49
Paper
Polaroid film
£37.90
A3 300gsm Watercolour Paper, 20 sheets * 2
£41.98
A3 Fabriano Black Black * 5
£49.40
Pen & Ink
Sakura Gelly Roll Set of 12 Metallic Gel Pens * 2
£28.76
Black fine point Sharpies, 24 pack.
£12.76
Rent & Costs
Art studio
£65.00
Shop space rent
£37.50
Shopify
£22.16
People of Print Membership
£12.00
Total expense:
£521.95
October sales
£949.00
October profit
£427.05
Profit to date
-£1,448.36
🤖 🤖 🤖
Looking forward to doing some plotting experiments this month. If I was doing this whole shop thing properly I guess I'd have some Christmas stuff set up, but perhaps next year.
🤖 🤖 🤖